Facebook event: https://fb.me/e/26LTNZkbZ
On March 27 we started a new performance series at Flamencura: Ziryab's Lounge, named for the 9th Century musician, composer, and all-around taste-maker (now we would call him an influencer) Abu l-Hasan 'Ali Ibn Nafi', aka "Ziryab," who was part of the Umayyad Court in Islamic-era Cordoba. This era was known as a Golden Age of art and culture in Al-Andalus (now Andalucia), which influenced not only Spain and Europe but also the entire Muslim world. I named this series "Ziryab's Lounge" because the figure of Ziryab embodies the questioning and investigative nature of what we're trying to accomplish here–delving into the cultural backgrounds of our various participants to see what we might have in common, or what might be completely new to us. In our inaugural event, we were lucky to count on an array of skilled, passionate, and knowledgeable performers to help lead our journey.
Flamencura long-time student and collaborator Happy Rahman kicked off the evening with a beautifully-executed flamenco choreography using castanets, danced to Diego El Cigala's version of the classic copla Española "Maria de la O." It was a joy to watch Happy interpret this Spanish femme fatale, especially since I hadn't seen her in person since before Covid lockdown happened in 2020! Happy nailed it, and also demonstrated just how castanets can be used to add character and complexity to flamenco dance. She left the audience mesmerized. Oleeee Happy!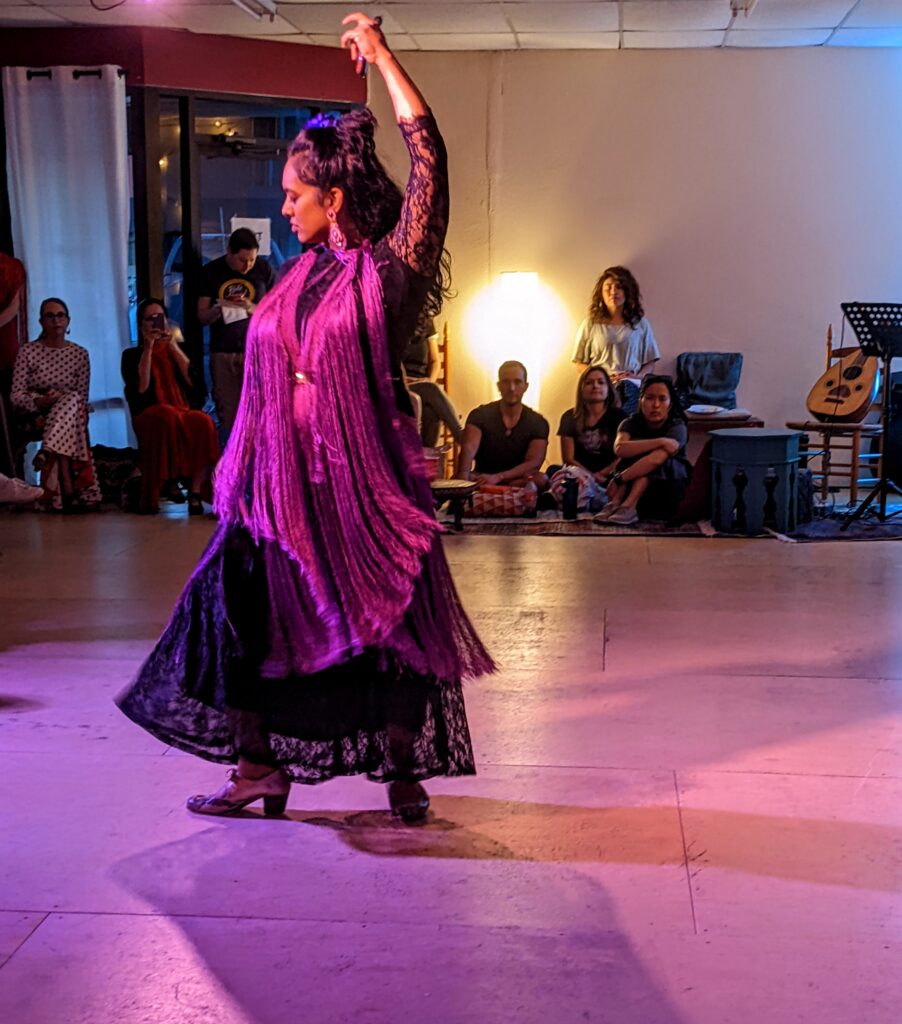 Next, Golda Sahayam, student of Guru Anuraidha Naimpally, led us on a deep dive into the world of Bharatanatyam, or Indian Classical dance, with two quite different pieces showcasing both the strict rhythmic qualities and more interpretive elements of the dance form. Golda also indulged my questions by demonstrating the detailed and very specific hand positions and gestures known as "mudras," which many believe to be the foundation of our flamenco "floreo" movements.
Our enthusiastic audience also got to hear some great music, including flamenco guitar by Isai Chacon, cajon by Tony Hampton, and special guest, guitarist Diego Barraz, who collaborated on two rumbas flamencas to get everyone's toes tapping. Flamencura dancers also showed off two different version of Fandangos de Huelva–one by the Intermediate dance class, and the other, using large shawls called Mantones de Manila, by the Advanced Flamencura dancers.
Next, we felt blessed to be able to enjoy the music of Sari Andoni (oud) and Marina Barsoum (vocals), aka Indimaj. This duo graced us not only with a set of gorgeous and soulful Arabic tunes, but also with some background and thoughts about Ziryab, a figure who is close to Sari Andoni's heart, as one of the influential (legendary?) musicians who helped to develop the oud by adding a 5th course of strings associated with the Soul. Sari and Marina's music transfixed everyone while we listened to see if we could identify any ancient Andalusian DNA that has been passed down to flamenco.
Finally, singer Geeti Shirazi Mahajan rounded out the evening by sharing some beautifully pared-down verses by Sufi poets, including the intriguing "Baba Tahir," aka "The Naked Sufi." Geeti's haunting voice interpreting these timeless poems was a wonderful way to end the night on an introspective note.
Even as I'm just getting this blog post out, we're getting ready for Ziryab's Lounge, Part 2, this Sunday, May 15th! In addition to flamenco performances by Flamencura dancers (and myself!) , we'll be looking at Middle Eastern music and dance traditions with belly dancers Jamie Lynn Shelton and Allyssa Altahif! Doors open at 7pm, bring your own beverages and snacks! Tea and cookies provided:) RSVP at Facebook event: https://fb.me/e/26LTNZkbZ