Summer Session Starts May 4
with special Masterclasses by Maestro Juan Paredes!
Flamencura's Summer Session of classes is about to start!
We're thrilled that Maestro Juan Paredes will be visiting us from Sevilla, Spain to help us kick off the season with Masterclasses on May 8 & 9! Read on for details…
Choose your Beginner Class:
Sunday 11:30am-12:30pm
6 classes, May 7, 2023 → June 18, 2023
Sunday 12:30pm-1:30pm
6 classes, May 7, 2023 → June 18, 2023
Thursday 6:30-7:30pm
6 classes, May 4, 2023 → June 8, 2023
Tuition
$96 Six week beginner course one class/week
$170 INTENSIVE Six week beginner course 2 classes/week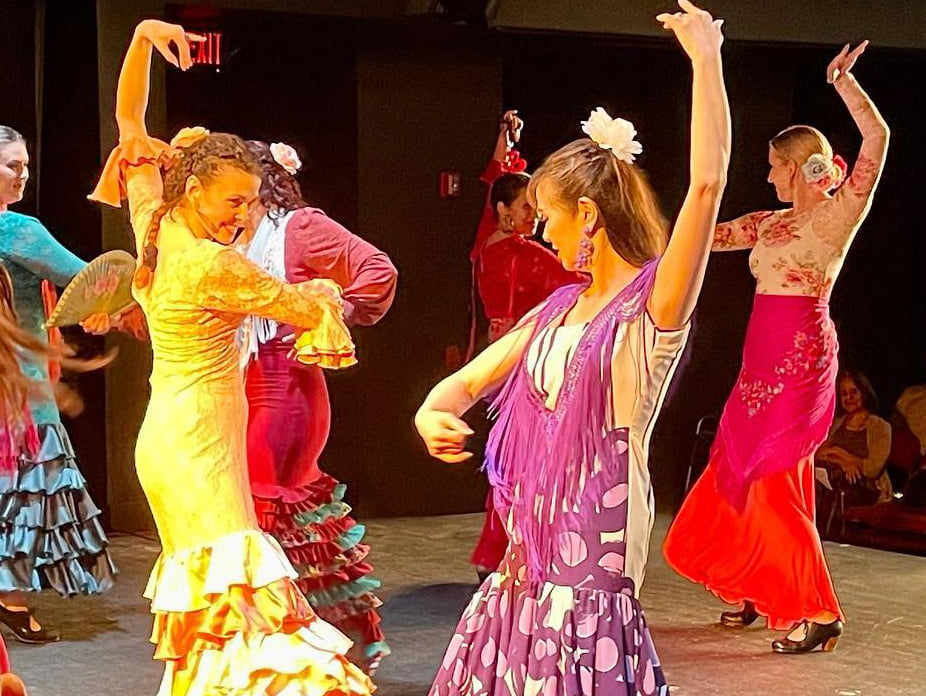 About Classes:
In our regular weekly classes, students learn all the basics of flamenco, including braceo and floreo (arm and hand movements), taconeo (percussive footwork), rhythm and musicality. We will learn a short choreography in order to understand musical structure, focusing on a different rhythm or musical style (palo) of flamenco in each session. No prior experience is necessary to join!
Sunday, Monday and Thursday classes available starting May 4 (see dates and times below) **No classes Sunday, May 28 for Memorial Day!
Classes can be taken in-studio or online
A video of each class will be made available to all students.
Special Masterclasses with Juan Paredes, May 8-9
Kick off your Summer Flamenco classes with a two-day Masterclass by Maestro Juan Paredes visiting from Seville!
Juan is known as the King of Bulerias, and has made it his goal in life to help students understand and enjoy dancing and improvising to this unique flamenco music style. Juan's focus is on Beginner and Advanced Beginner students-he is an expert on teaching students to *feel* the music rather than worry about counts and technique, enabling them to improvise and relax while dancing flamenco. This fun-loving approach to Bulerias "festeras" (party-style) often creates a lifelong love affair with flamenco, so I highly recommend it for all Beginner and Advanced Beginner students!
Receive a discounted Masterclass tuition when you combine it with your Flamencura Beginner Class registration:
Summer Session with Masterclasses: $146
-Juan Paredes 2-day Level 1 workshop:
Monday, May 8 & Tuesday, May 9, 6:30-7:45pm each day.
-Flamencura's 6-week Beginner class session (All sessions start the week of May 4): Choose any class option above
Intensive Summer Session with Masterclasses: $220
-Juan Paredes 2-day Level 1 workshop:
Monday, May 8 & Tuesday, May 9, 6:30-7:45pm each day.
-Flamencura 6-week session, TWO classes per week: Sundays 11:30am OR 12:30pm + Thursdays 6:30pm.
---
What is Flamenco?

Flamenco is a unique musical form from Andalucia, the southern region of Spain. The roots of flamenco go back hundreds of year when Spanish, Muslim, Jewish and Gypsy (Roma) cultures all mixed, resulting in a musical form that was preserved and developed in later centuries. Although flamenco is danced by both men and women, female dancers called "bailaoras" have dominated in the popular imagination, since flamenco provides a unique opportunity for women to express strength, vulnerability, sensuality and an almost infinite range of emotions.
Flamenco at Flamencura
All classes take place at Flamencura Music and Dance Studio, which opened its doors in May, 2010 as Austin's first dance studio dedicated to Flamenco. Our brand new studio is located in North Central Austin at 8910 Research Blvd unit D3. The new Flamencura Studio has two main studios (1000ft, 800 ft), equipped with mirrors and sprung plywood floors specially designed for flamenco dancing. Beginner flamenco dance classes are taught by founder Olivia Chacon. She is an experienced performer, having danced in theaters and flamenco tablaos throughout Texas, Spain, Mexico, Germany, and Cyprus. In 2013 Olivia received the Austin Critics' Table award for "Best Dancer" . Her company A'lante Flamenco also received the Critics' Table Award for Best Dance Ensemble in both 2013 and 2014, and was nominated for "Best Dance Concert" for the 2017/2018 season. Olivia is also a seasoned instructor, and enjoys introducing new students of all ages to the joys of flamenco through her original choreographies.
Any questions?Just send us a message!