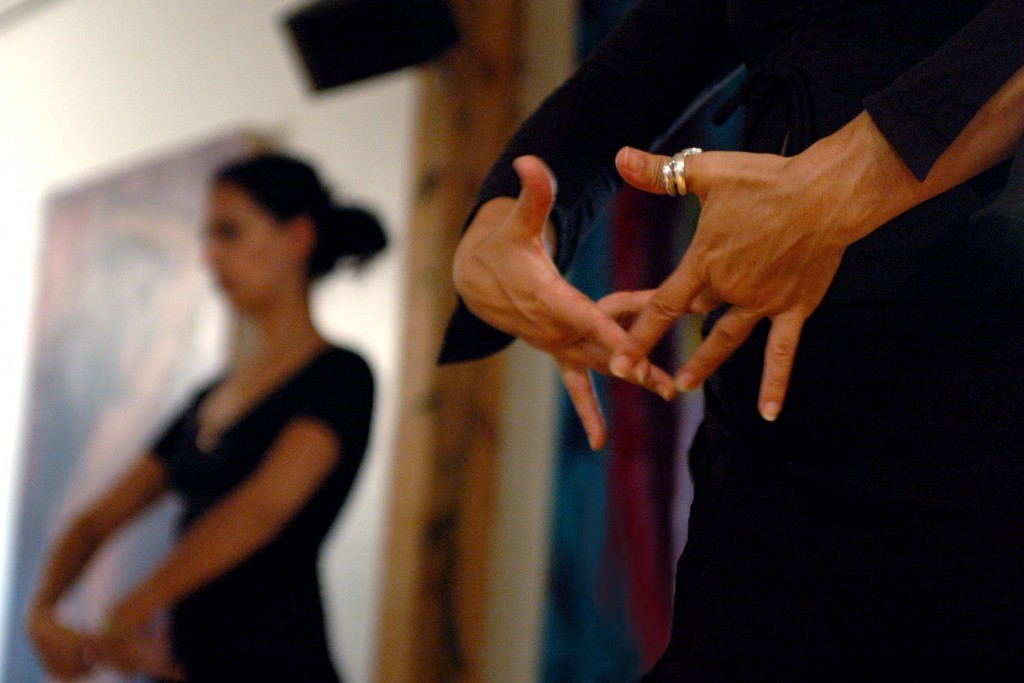 About Classes:
What should I wear to class?
Adult students may wear what they like to class, as long as their clothing does not constrict movement or distract them in class. All students should come prepared to sweat! Both women and men should wear workout pants/leggings and a comfortable t-shirt or top that doesn't restrict movement. Skirts are optional. At Flamencura we have both full-length flamenco skirts and shorter practice skirts for sale (prices vary). Flamenco practice skirts may also be purchased online or made at home in a wide variety of styles.
What about shoes?
Flamenco shoes are an important aspect of flamenco dance, but we do not require them for Beginner students. Flamencura is an authorized vendor of Miguelitos Flamenco shoes for children and adults. These shoes are great for beginner and intermediate dancers, and cost $76.50 including tax (adult women's sizes). Flamenco shoes should be leather, with nails in the sole of the toe and heel, and a dance rubber sole. Other high-quality (and more expensive) brands from Spain include Menkes, Gallardos, Luna Flamenca, and ArteFyL, and may be ordered online or by telephone.
Flamenco shoes are a good investment if you intend to continue with flamenco, but if you prefer not to purchase shoes, you are welcome to use footwear you already have. A hard-soled, sturdy-heeled shoe that will not slip off while dancing is best. If in doubt you are welcome to wear sneakers to the first class and then see if you have something appropriate. Dancers MUST wear shoes in class! Our wood floors take a beating, so barefoot dancers may end up with splinters in their feet!
Note: Character shoes and tap shoes are NOT acceptable permanent substitutes for flamenco shoes, so please don't purchase them for flamenco class! Character shoes work temporarily but will not hold up long-term. We don't allow tap shoes in our classes since they are so much louder than other students' footwear. If you have any doubts, please feel free to use the red button to contact us!
Castanets, Fans, and Shawls (Castanuelas, Abanicos, and Mantones)
Flamencura offers dedicated castanet classes during most of the year (currently on Sundays), as well as periodic beginner-level castanet workshops. All castanet students must bring their own castanets to class. Beginner-level castanets are often available for purchase in the studio, or may be purchased from various online sources. Castanets are NOT required for Flamencura's regular dance classes.
Fans (abanicos) made of cloth and wood are frequently used as a prop in flamenco dance, and dances with abanico are taught at Flamencura, usually in the Flamenco II level. Students of that level will be required to have their own fan to use in class, and will be advised beforehand. At these times fans ($20 or less) will generally be available for purchase in the studio.
Large square shawls (mantones) made of silk are traditionally used as a clothing accessory in Spain, but have developed a special importance as an element of flamenco dance requiring its own technique. Manton technique and choreography workshops are taught periodically at Flamencura, and students are responsible for buying their own shawls. Adequate shawls should be at least 52 inches square PLUS fringe. They are usually silk and have embroidery which makes them heavier and easier to use. A good source is the Shanghai Tailor store on Ebay, which carries good (i.e. large) shawls for about $120-$150. Alternatively, students may make an inexpensive practice shawl from a large square of polyester fabric–long fringe is also desirable.
Where do I find flamenco music?
Listening to both new and old flamenco music is fundamental to understanding the art form, and will improve your compas (rhythm) and musicality.
Check out Flamencura's Class Playlist on Spotify:
Some good artists to seek out are singers Camaron de la Isla, Estrella Morente, Arcangel, Potito, Guadiana, Montse Cortes, and Nina Pastori. Guitar-only cds (like Paco de Lucia and Tomatito) are NOT ideal for practicing flamenco dance. Traditional singing (cante) is the most important thing you can listen to. Be aware that most flamenco/pop bands, such as Ojos de Brujo and Ketama, do NOT sing traditional flamenco, although they may include aspects of flamenco music and are lots of fun to listen to.