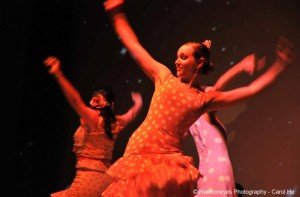 This class session is designed as a transition between our Beginner level and our Intermediate level. Emphasis will be placed on improving coordination and rhythm, learning more complex taconeo, turns, marcaje, and braceo combinations, and adding style and grace to your dancing. A short choreography will be taught, with a focus on one particular palo, including it's rhythm, structure, and musical characteristics . Students should repeat this class until their instructor advises that they are ready to move to the Intermediate level.
---
Spring 2020 Session: 8 Wednesdays 6:35pm-7:30pm starting March 18, 2020 and ending March 4, 2020 (no class Feb. 12). One make-up class will be offered on March 11.
We are now accepting registration for our Spring 2020 Advanced Beginner class, which starts March 18 and ends May 6, with a make-up class May 13.