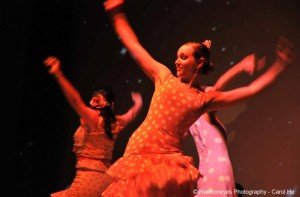 NEW Online & In-studio Technique Class starts October 13, 2021! Classes taught by Olivia Chacon live from the Flamencura Studio via Zoom OR in-studio (limited capacity, face coverings required). Choose your option below!
This class session is designed as a transition between our Beginner level and our Intermediate level. Emphasis will be placed on improving coordination and rhythm, learning more complex taconeo, turns, marcaje, and braceo combinations, and adding style and grace to your dancing. This session will focus on technique, rather than choreography. Students should repeat this class until their instructor advises that they are ready to move to the Intermediate level.
---
Wednesday Advanced Beginner
8 Wednesdays 6:30pm-7:30pm starting October 13, 2021, and ending December 8, 2021. One make-up class will be offered on December 15 in case of absence. Video of each class will be available so you can continue practicing material between classes!
You may attend either online or in-person (limited capacity, face coverings MAY be required). Zoom links are available on the class registration page: