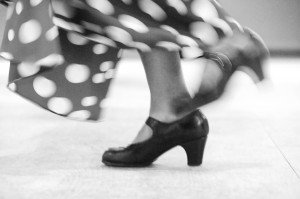 This Spring Flamencura is offering a new series of flamenco technique classes on Sundays. All classes start on Sunday, January 27.
Beginner Castanet Workshop with Guillermo Tabares
Sundays 12-1pm
Castanet playing is a traditional and beautiful component of flamenco dance. Study of this art form also builds coordination, rhythm, and musical awareness! The Beginner Castanet class is intended for students with at least an Advanced Beginner flamenco dance level. No prior castanet experience is required. Students must have their own castanets! 8 classes starting January 26.

Adv. Beginner Technique with Olivia Chacon
Sundays 1-2pm
This class focuses on improving speed, coordination and musicality in footwork, as well as balance and agility in turns and marcajes, and strength and grace in the upper body. We will learn short combinations in each class. Students should have at least Advanced Beginner level to participate, although this class would also be great for Intermediate students looking for a refresher. 8 classes starting January 27.

Intro Manton Workshop
Sundays 2-3pm
This 4-week course introduces students to the use of the Manton de Manila in Flamenco dance. A manton is a large, square shawl measuring at least 50 inches per side, plus fringe, and is a traditional dress item for women in Andalucia. It's use in flamenco requires a special technique, which we will learn in conjunction with short choreographic sequences. Students should have their own manton, and an Intermediate level of flamenco dance. $48 for the 4 classes.
Advanced Castanets
Sundays 3-4pm

The Advanced Castanets class is for Intermediate and Advanced students with experience playing castanets. The class focuses on improving strength, coordination and musicality in technique, as well as developing a choreography for performance. Students enrolled in Intermediate or Advanced Flamenco classes may use a classcard, or register for the class separately.