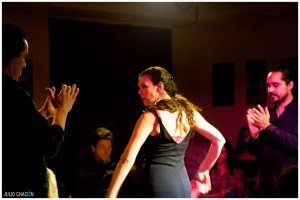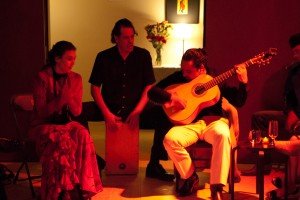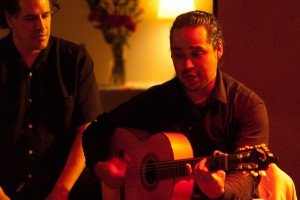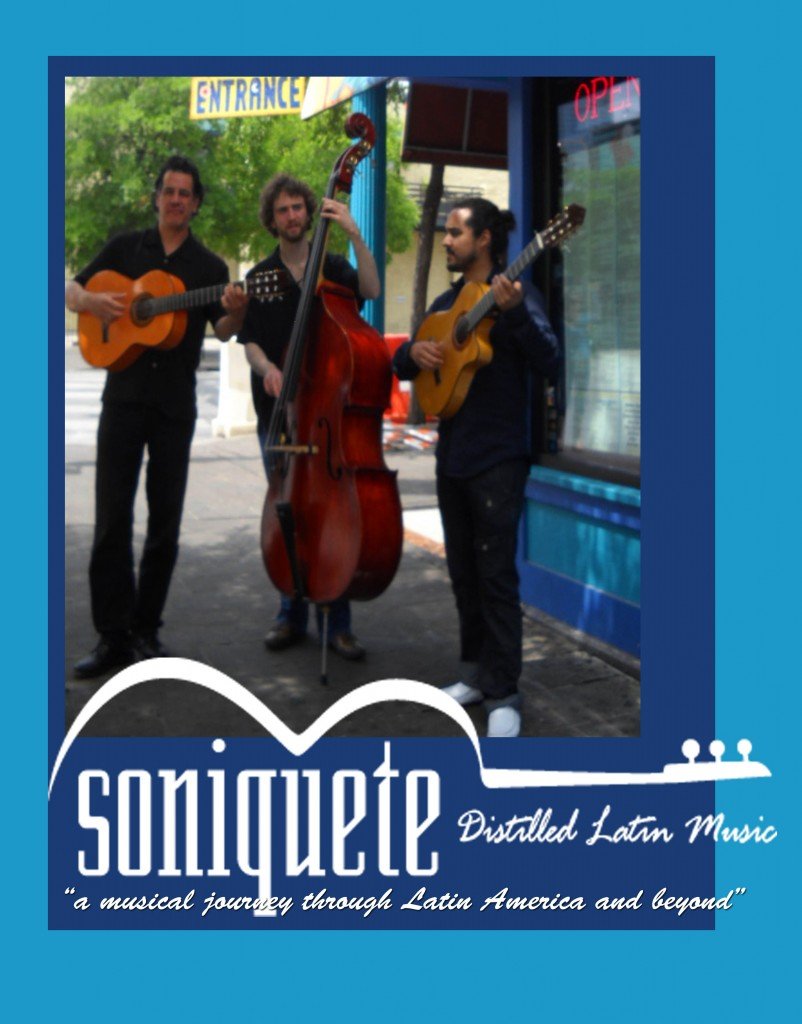 Soniquete blends traditional sounds from Spain and Latin America to create a unique flavor that is purely Austin. Founded in 1999 by Isaí Chacón (of Durango, Mexico) with Luis Neira (of Lugo, Spain) and Pepe Gaytan (Chilango from D.F.), the group bonded over their love for flamenco, afro-cuban son, Colombian vallenato, cumbia and other Latin beats. With a lineup of some of Austin's best salsa musicians, Soniquete produced their cd "No se la clave" in 2001, and toured Texas and Mexico.
Since then, Soniquete's key members, guitarist/vocalist Isai Chacon, and percussionist/guitarist/vocalist Pepe Gaytan have participated in numerous other projects, such as starting the super successful band O Positivo. Isaí recorded tres cubano on Cienfuegos' debut cd, and wrote, arranged and played flamenco guitar for the Olivia Chacon Baile Flamenco Company in its debut at the State Theater for First Night Austin 2005. He then spent 4 years in Madrid, Spain playing and touring with some of the world's most important flamenco artists. In 2008 Gaytan founded the group Oro Viejo, in which the conservatory-trained percussionist debuted his guitar and vocal skills.
Soniquete is available as a trio or quartet featuring vocals, guitar, tres cubano, percussion and/or bass. The group also works with flamenco dancer Olivia Chacon to create a Latin/Flamenco fusion show featuring flamenco dance, castanet accompaniment and popular rumba flamenca.
Upcoming dates:
Thursday, March 17, 7-9pm: Matt's El rancho, Austin, TX.
Every Sunday in April, 12-2pm: Rumba brunch at Malaga Tapas Bar, Austin, TX.
Every Sunday evening, 6-8pm: Morelia Mexican Restaurant, Round Rock, TX.
Thursday, March 31, 7-9pm: Matt's El Rancho, Austin, TX.
Wednesday, April 6, 7-9pm: Uncorked Wine Bar, E. 7th St., Austin, TX.
Wednesday, April 13, 7-9pm: Flamenco Night with Soniquete, featuring dancer Olivia Chacon, at Uncorked Wine Bar, E. 7th St., Austin, TX
Thursday, April 14, 7-9pm: Matt's El Rancho, S. Lamar Blvd., Austin, TX.
Here are some samples from our cd "No Se La Clave"