SOLD OUT
I'm sorry we ran out of tickets. Leave your email and you'll be the first one to be notified for the next one.
Error: Contact form not found.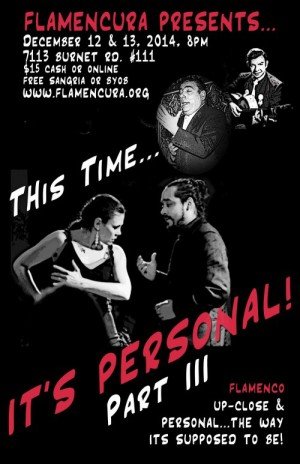 December 12 & 13, 2014 8pm
doors open at 7:30pm
$15 cash at the door
**BOTH SHOWS ARE SOLD OUT**
**LIMITED SEATING MAY BE AVAILABLE AT THE DOOR**
As your eyes adjust to the candlelight, you can just make out a circle of men and women, sitting close, shoulder to shoulder. Fingers strum guitars, hands clap byzantine rhythms, heads bend, listening intently to the gravelly voice of a lone singer. The woman next to you suddenly rises from her seat, her face transfixed in a mask of concentration, fingers snapping a morse code intelligible to everyone but you. She raises her arms and stamps her foot… the night has just begun. Get up close and personal, the way flamenco is supposed to be!
Join the musicians and dancers of A'lante Flamenco plus special guests at a rare, intimate performance at Austin's home for flamenco: Flamencura Music & Dance. With limited, in-the-round seating and free sangria (or BYOB) you'll have the best seat in the house for sizzling footwork, searing guitars, and gut-wrenching vocals. Feel free to ask questions, get that authentic gazpacho recipe, or join in the palmas. No te preocupes, estas en familia!
Doors open at 7:30pm.