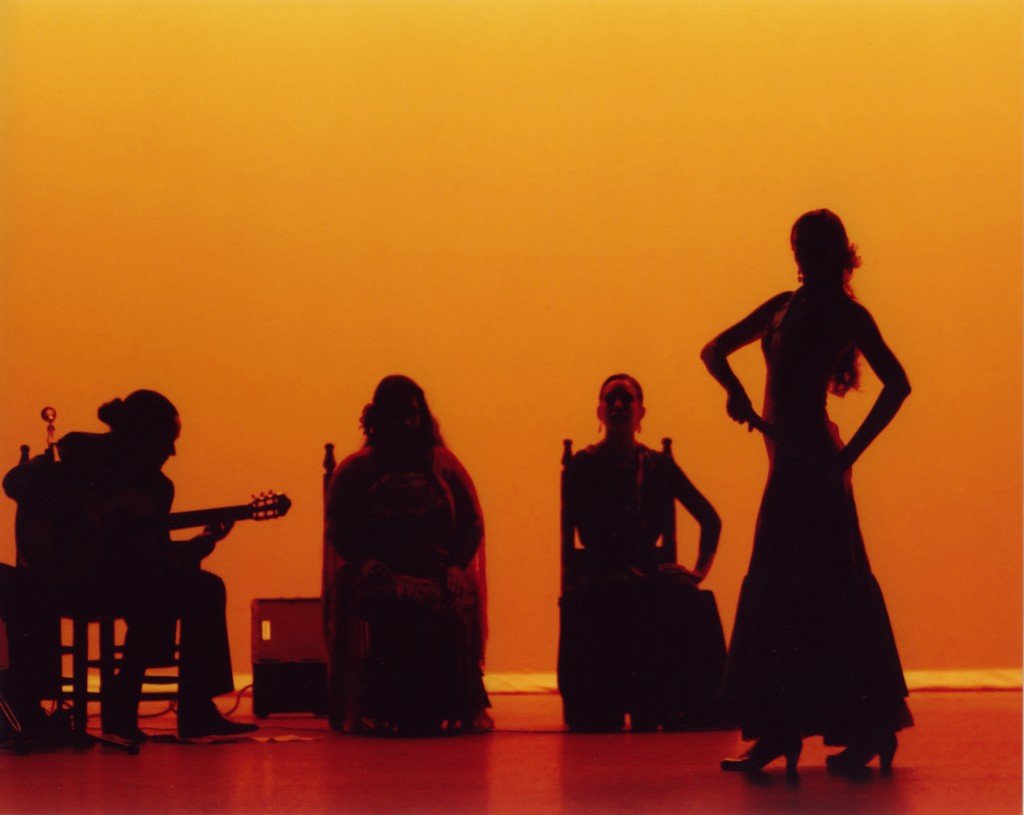 The Flamencura Cuadro
A cuadro, or troupe, is the basic performing unit of flamenco: singing, guitar, and dance. The Flamencura cuadro features the singer/guitarist Isaí Chacón, guitarist David Córdoba, and dancer Olivia Chacón, as well as a variety of guest dancers and musicians including guitarist Luisma Ramos and percussionist Pepe Gaytan. The cuadro performs in more intimate venues, where audiences can see the performers' artistry up-close, feel the raw energy of pounding feet and clapping hands, and share in the vitality of their improvised conversation. The Flamencura cuadro performs frequently throughout Texas. See the Calendar for dates and locations.
The Performers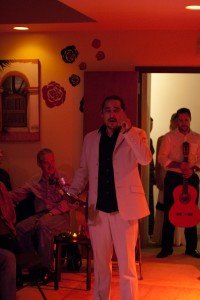 Isai Chacón is a gifted guitarist, singer, and composer. Originally from Durango, Mexico, Isaí began studying guitar when he was ten years old. After absorbing the basics of Latin music in Mexico, Isaí relocated to Texas, where he studied music theory, jazz and composition, while simultaneously discovering his love of flamenco guitar and singing. After playing son cubano in Austin with bands like Soniquete and O Positivo, Isaí left Austin to live in Madrid from 2003-2004, and again from 2006-2010, where he immersed himself in the flamenco world by accompanying many of the world's best artists in classes and performance. He was Concha Jareno's class guitarist at the famed Amor de Dios Academy for four years, and performed with dancers such as Cristóbal Reyes, Antonio Reyes, Curro Vargas, Titi Flores, La Popi, and many others. He toured internationally with the companies of Laura Tabanera, Antonio Reyes and Cristóbal Reyes, and is a well-known performer in many of Madrid's flamenco tablaos. Isaí's love of cante flamenco led him to be tutored by many of Madrid's best gypsy and payo singers, resulting in his unusually authentic singing style, extensive repertoire, and complete knowledge of flamenco cantes. Today Isaí's dynamic singing, creative musical arrangements and guitar work, and expert accompaniment of flamenco dance make him one of the most sought-after flamenco performers in Texas.


David Córdoba began studying flamenco guitar in his homeland of Alicante, Spain. Born in the Cádiz region, David was an aficionado of flamenco from an early age, and has developed his playing style by studying extensively with master guitarist Gerardo Nuñez in Sanlucar de Barrameda. David arrived in Austin to work as an elementary school teacher in 2008, and teamed up with Flamencura in 2010. Austin is fortunate to have David's artistry.
Olivia Chacón is a flamenco dancer, choreographer, and instructor with a uniquely powerful dance style. Originally from San Antonio, Texas, Olivia has danced flamenco for more than fourteen years, including almost five years spent studying in Spain. From 2001-2002 she lived in Sevilla, where she studied with Juana Amaya and the family of Los Farruco . From 2006-2009 she lived in Madrid and studied at the famed Amor de Dios Center, with maestros including Concha Jareño, Maria Juncal, Cristóbal Reyes, and Alfonso Losa, among others. She began her professional career performing frequently in Central Texas with local flamenco and world music artists. In 2005 Olivia premiered her own dance company at Austin's State Theater with "De Noche", a work commissioned by First Night Austin. In Madrid from 2006 to 2009 she performed at tablaos and clubs throughout the city, as well as in Germany.
For two years, 2007 and 2008, she performed as a member of the Cristóbal Reyes Compañia de Flamenco, and toured theaters throughout Spain, Mexico, and Cyprus. Of Olivia's choreographic work the San Antonio Express News has written: "The choreographer's message is clear: This is a dance form that is alive and well, not a relic from a romantic Andalusian past." Olivia aims to keep the dance form alive and well in this country by performing frequently throughout Texas and the region, and teaching flamenco to a new generation of dancers at her studio, Flamencura Music and Dance in Austin. Her newest project is A'lante Flamenco Dance Ensemble, a small dance theater group which will debut a new show in Spring 2012.
Check out our next show! Here is our calendar: