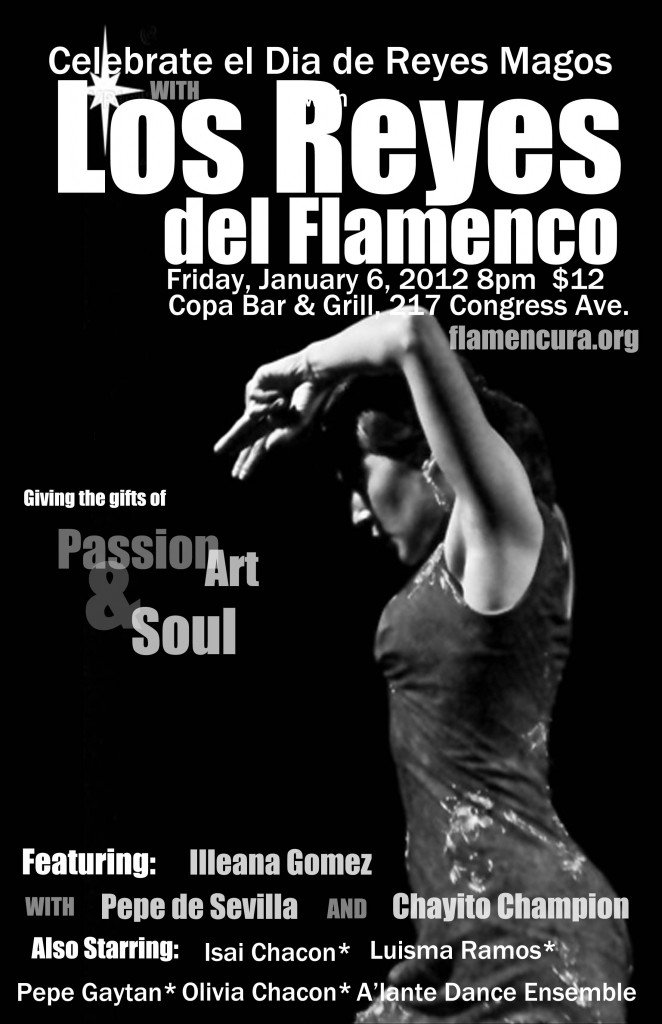 Receive the gift of flamenco music and dance this holiday season–celebrate el Dia de los Reyes Magos (Three Kings Day/Epiphany, January 6) with los Reyes del Flamenco (the Kings of Flamenco)!
Los Reyes del Flamenco are some of the region's best flamenco artists, united on this special occasion to bring naughty and nice adults and children passion, rhythm, and soul. The Kings (and Queens) of Flamenco are:
Special Guest dancer Illeana Gomez (from Albuquerque, NM)
Special Guest singer Josemaria Roldan, "Pepe de Sevilla"
singer Chayito Champion
guitarist Luisma Ramos
guitarist/singer Isaí Chacón
percussionist Pepe Gaytan
dancer Olivia Chacón
and the A'lante Flamenco Dance Ensemble
Don't miss TEN phenomenal flamenco artists on stage, singing, dancing and playing their hearts out, including a villancicos (Spanish Christmas carol) sing-along to complete your Dia de Reyes Magos!
Show takes place Friday, January 6, 8pm at Copa Bar & Grill, 217 Congress Ave., Austin, TX. Tickets $12 at the door. Doors open at 7pm. Kids under 12 half-price!